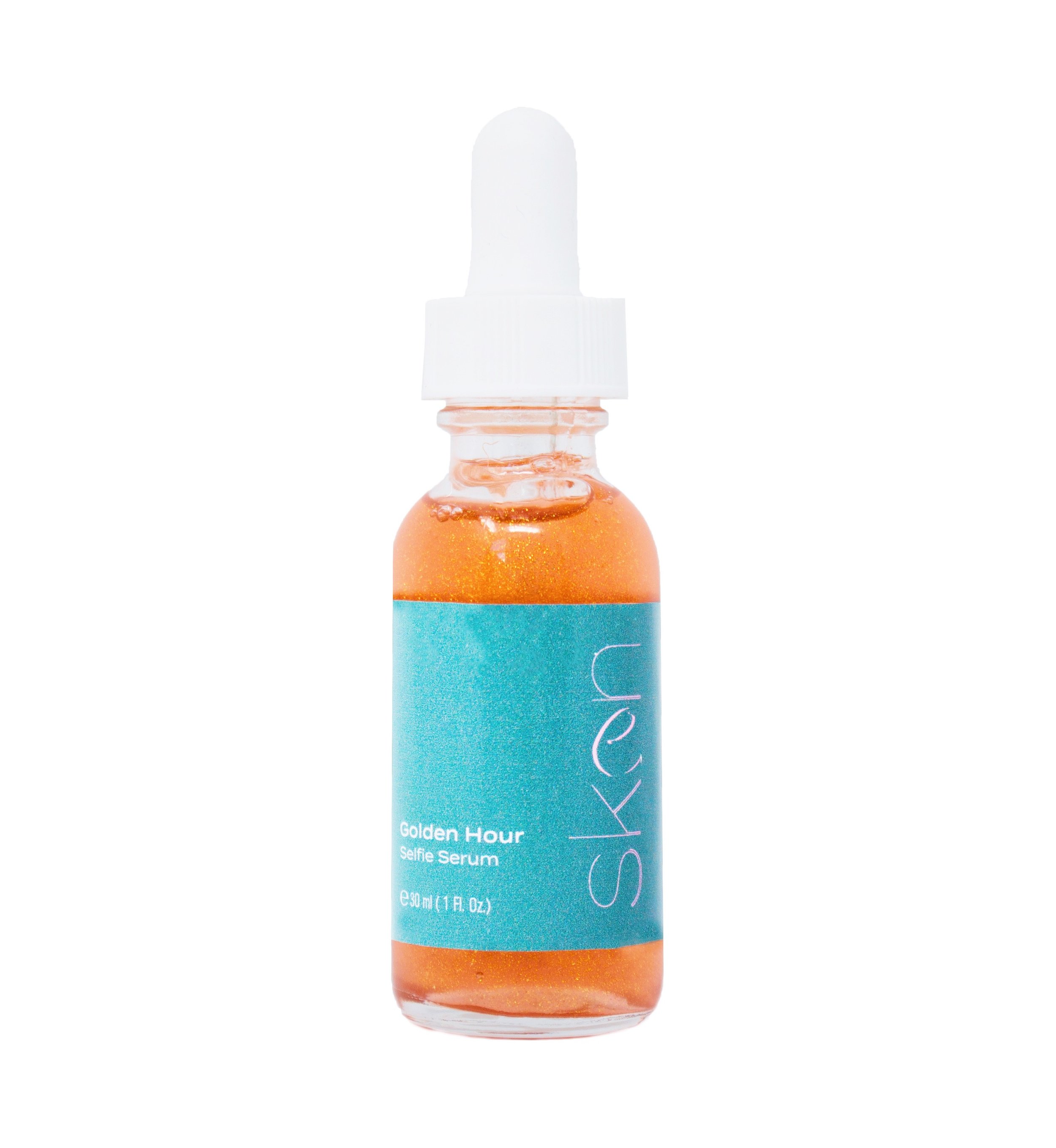 Golden Hour
Selfie Serum
An ultra-luxe serum that primes the skin with a gorgeous, luminous glow. This soft touch formula leaves the skin feeling plumped and hydrated with a light matte finish. Warm gold mineral pigments create a brightening effect and help to diffuse the look of redness, skin irregularities and wrinkles. It also serves to hydrate the skin, leaving it plump and healthy looking.
1 Fl Oz
WHY IT'S DIFFERENT


Smart Hydration
Capable of holding up to 1,000 times its own weight in water, hyaluronic acid to instantaneously recharges water levels and restores skin's hydration. In addition, unique, plant sugarderived ingredients help to improve epidermal water content and minimize water loss from the skin.

Skin-Refining Pigments
Reflective gold-toned pigments boost radiance and luminosity.

Unrivaled Efficacy
This formula utilizes each ingredient in its most effective form, selected specifi cally for its ability to deliver real results.



KEY BENEFITS


• Deeply hydrates the skin
• Illuminates and brightens the complexion
• Minimizes the appearance of signs of aging
• Supports the appearance of skin elasticity and firmness



HOW IT WORKS


This rosy-toned serum gives skin an instant visible boost and lit-from-within glow while targeting dryness and signs of aging over time. It is powered by known hydrating ingredients, such as hyaluronic acid, along with orobanche rapum, a revolutionary, multi-benefi t plant extract. It helps to moisturize, reduce the look of wrinkles and smooth the skin's appearance. A plant sugar-derived complex helps to support water retention in the skin for the look of plumpness, fi rmness and bounce.



DIRECTIONS FOR USE


Apply to clean skin morning and night. Can be used alone, under moisturizer, and/or under makeup.



KEY INGREDIENTS


• Hyaluronic Acid: This form of high molecular weight HA forms a protective veil on the skin to limit transepidermal water loss and keep skin hydrated.
• Aquaxyl™: (Xylitylglucoside, Anhydroxylitol, Xylitol) This unique complex, derived from plant sugars, helps to improve epidermal hydration for an instant and long-term moisturizing effect. It also supports glycosaminoglycans (GAGs) within the skin, which are essential for firmness and elasticity.
• Revivyl™ (Orobanche Rapum Extract): This botanical breakthrough extract is derived from a chlorophyll-free plant, the orobanche rapum. This plant is enriched in sugar esters that are known for their antioxidant benefits. It helps to exfoliate dead skin while supporting the skin's barrier, microflora and moisture levels, offering a synergistic effect on the appearance of aging skin.
• Golden Jewel: A cosmetic sparkling powder derived from precious minerals such as titanium dioxide, iron oxide and tin oxide that create a gorgeous shimmering highlight on the skin.